next –
Remote Mocap
Established in 2013, Bones Studio's
(formerly known as mocap.pl) prime objective is to deliver top-notch quality performance to meet the needs of AAA games, and those of movie and advertising productions. With its 60 Vicon cameras and full performance capture equipment, our volume stage is currently one of the largest in Central Europe.
Our founders include a professional actor, who brings to our animations the authenticity and realism we aim to nail every step of production. From the initial talent acquisition, through stage direction right down to editing and creative polishing. The final result are CG characters that come alive each with their very own motion- and character-specific uniqueness.
Also, we do happen to have the best coffee
in town, so do drop by.
Bones – CEO, Co-founder
---
Diagnosed performance-captureoholic. Serial entrepreneur. Adrian is a professional actor with 12 years of experience in motion capture industry.
He is that guy who performed Geralt and most of male characters in the Witcher 2 game. In 2013 he funded Bones Studio and from that time he is absolutely passionate about mocap and vision of filmmaking in game engines. Grit driven leader, technology geek with strong believe that impossible is nothing. Inspired and motivated by life and career of Walt Disney. Cartoons fan, black powder shooter and proud father of two boys.

Favorite games: Warhammer, Red Dead Redemption, Call of Juarez.

Favorite cinematics: Dead Island I, The Witcher – Killing Monsters.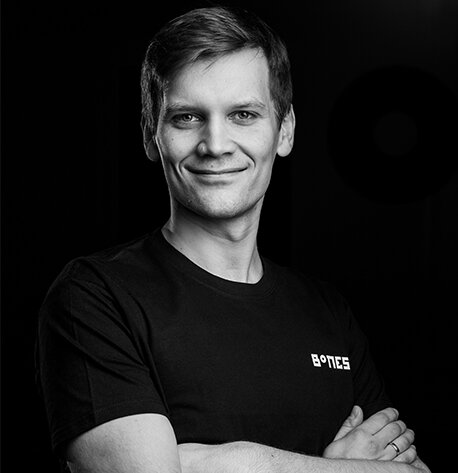 Bones – CTO, Co-founder
---
Inventor and creative programist. Nominated for MIT 30 under 30. As a co-founder of Leia Display System and Virthu companies Marcin gained deep knowledge about real-time motion capture and holography.
Wide variety of projects for big brands like: Adidas, Ferrari and VW made him an expert in developing 3D digital worlds. He's the lead inventor and developer of all pipelines and systems within company.

Favorite games: The Witcher, The Elder Scrolls, Myst.

Favorite cinematics: Cyberpunk 2077 (by PI), The Witcher III: A Night to Remember.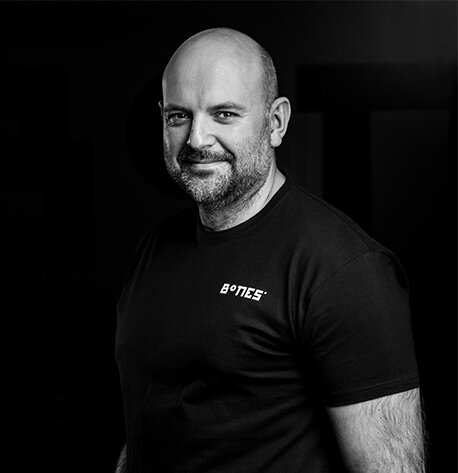 Bones – Co-founder
---
Michał has established executive experience in media industry. As a CEO of HBO Polska he was responsible for most competitive TV market in CE, simultaneously as a SVP of HBO Europe he was leading multicultural content distribution team in 18 European countries.
Holds master's degree in Economics, during his quest in Search of Knowledge acquired some additional skills by graduating also from INSEAD, Saïd Business School University of Oxford, MIT Sloan School of Management and Cambridge Judge Business school. Fallen in love in idea with motion capture and process of digital creation.

Eternal gamer, perpetual reader and everlasting student.

Favorite games: Civilization, Hearts of Iron, Fallout and Mount & Blade saga.

Favorite cinematics: The Division 2 – trailer, Dead Island I – trailer, Call of Duty: Modern Warfare – Story Trailer


Bones – Head of Motion Capture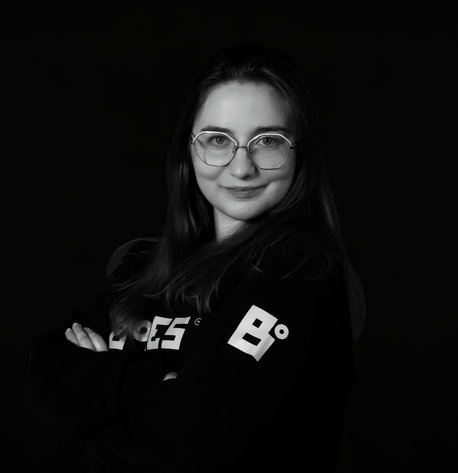 Bones – Producer
Bones – Senior Character Animator 3D
---
Yaroslav was inspired by cinematics to choose his life path. From an early age, he was surrounded by electronics, computers and games, which became his greatest passion. He has significant experience in creating animations and characters in motion capture system. At Bones Studio he is responsible for managing our projects, controlling pipelines and supporting the team of animators.


Favorite games: Counter-Strike: Global Offensive.

Favorite cinematics: Now You see me.


Bones – Office Manager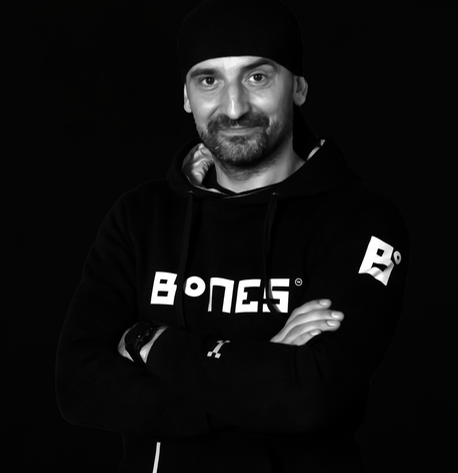 Bones – Motion Capture Stage Designer
Bones – Animator
---
Monika is studying at the Acadamy of Fine Arts in Warsaw. She is absolutely falling in love with creating animations. She supports animators and mocap specialists during sessions, cleaning and production. Monika is continuously developing her skills and expanding her knowledge.


Favorite games: Witcher 3: Wild Hunt, Detroit: Became Human

Favorite cinematics: Witcher Series by Netflix.